Pressure gauges - Art. lab - digital - Accuracy 0,05% ACCREDIA certificate
LAB-DMM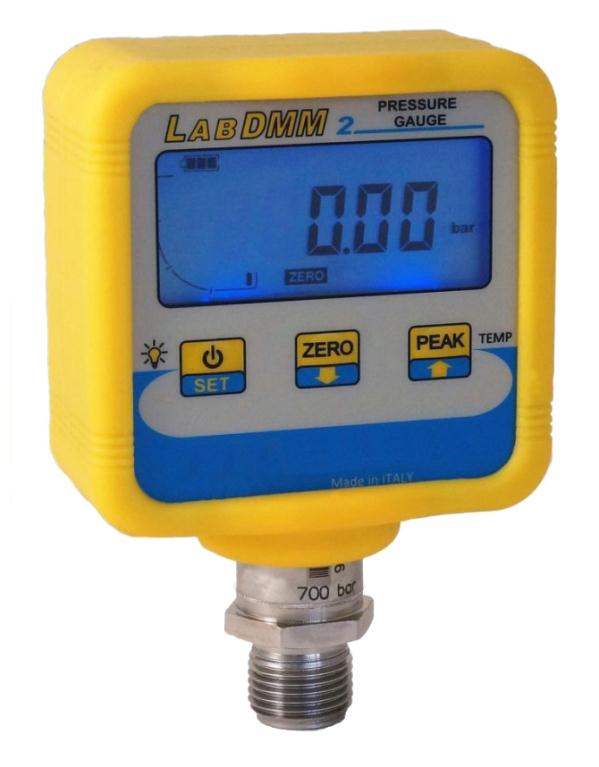 ---
Use
The digital pressure gauge of the NEW Lab-DMM series is proposed as a first line sample used in the industry for direct testing on plants or in laboratories for the calibration or metrological confirmation of pressure gauges, pressure transducers and transmitters, pressure switches, etc.
To increase practicality and make the instrument completely autonomous, the pressure gauge is powered by internal batteries that guarantee a 50-hour autonomy in continuous transmission mode, rechargeable by its USB power supply or computer.
In the programming menu accessible from the keyboard it is possible to adjust various functions such as: digital filter that allows to keep the measurement stable even in the presence of unstable pressures. The display resolution is 5 digits, the unit of measurement can be changed to Bar, mBar, KPa, MPa, Psi, Kg / cm2, mHg, mmHg, mmH20, mH2O. The sensor is made entirely of monolithic stainless steel to guarantee high stability over time even in the presence of highly dynamic pressures.
During the production cycle the pressure gauge is calibrated and ACCREDIA certified to guarantee the exact measurement uncertainty which is always guaranteed better than 0.05%.
Description
Digital pressure gauge accuracy 0,05%* with ACCREDIA certificate issued by LAT laboratory (relative until 2000 BARs and vacuum pressures).
- ALUMINIUM case, Protection degree IP40 with rubber protection
- STAINLESS STEEL pivot 1/2" BSP
- 2.0 USB port – continuous (10/sec) or on demand transmission, max 5 Mt wire
- Li-Ion 3.6V 1800 mA/h battery, 50 hours autonomy continuous operation
- Programmable resolution, digital filter and units of measurement (Bar, mBar, KPa, MPa, Psi, Kg/cm2, mHg, mmHg, mmH20, mH2O)
- RELATIVE, ABSOLUTE pressure and VACUUM
- Functions peak (positive and negative), zero and loop (alternates pressure and temperature)
- Keyboard lock
- Temperature display °C or °F (resolution 0.1, accuracy 1°C)
Using range
Working temperature 0 - 50° C (+32 +122° F) - Max overpressure 150%
Models
Scale --> Resolution
0.1 - 1 bar --> 0,0001
2,5 - 5 bar --> 0,0005
10 bar --> 0,001 (VACUUM option and ABSOLUTE range limit)
20 bar --> 0,002
50 bar --> 0,005
100 bar --> 0,01
250 bar --> 0,02
350 - 500 - 700 bar --> 0,05
1000 bar --> 0,1
1500 – 3000 bar --> 0,2 (*range 2500 e 3000 accuracy 0.1%)
Options
- NPT or 1/4 "connection;
- VACUUM calibration
- External 12/24 Vdc power supply -
- Internal datalogger for pressure and temperature. 130,000 points (pressure only), 65,000 points (pressure and temperature)
- RS232C serial output (9600 baud)
- WIRELESS transmission
- Panel version in technopolymer
---